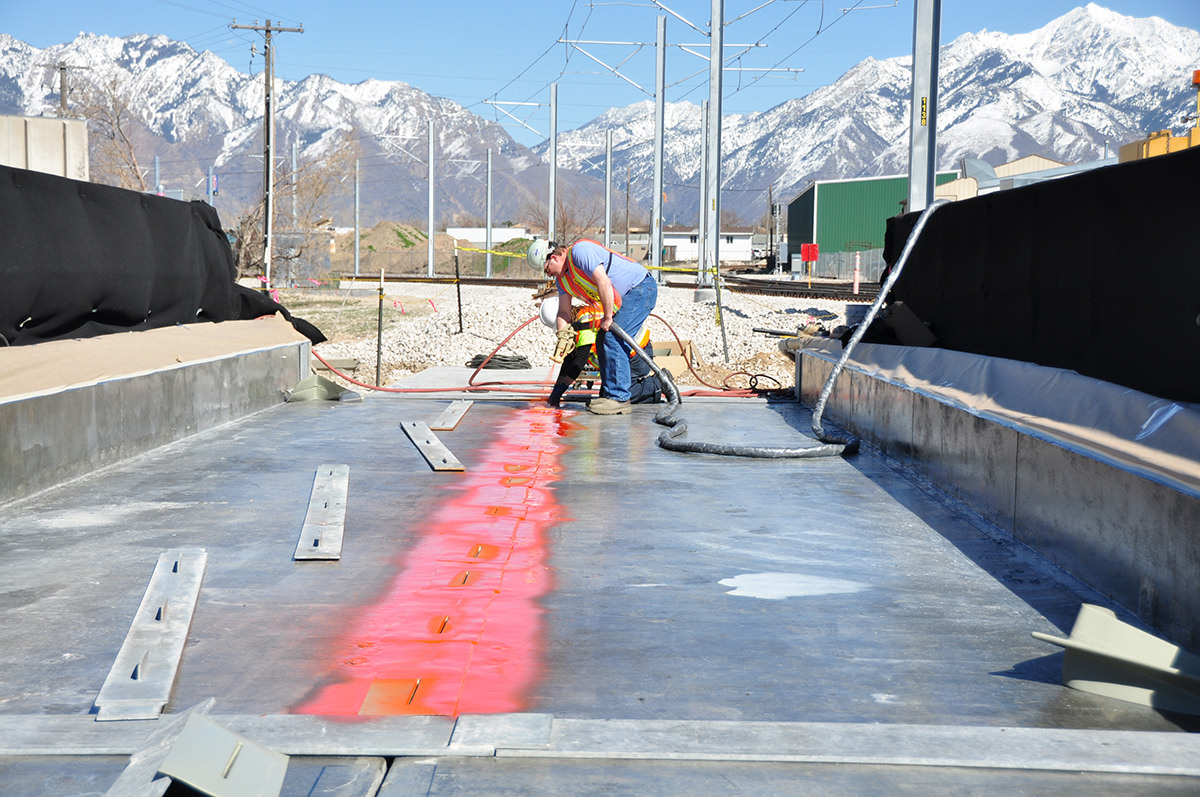 News, Products, Rail
AREMA Dr. William W. Hay Award Winner Uses Spray Applied Waterproofing and Bridge Expansion Joints
The Utah Transit Authority is the recipient of AREMA's 2013 W. W. Hay Award for the their FrontRunner South Commuter Rail Line.
A patented bridge expansion joint system combined with cold spray applied waterproofing and bridge deck membrane helped to overcome major bridge leak during the FrontRunner project. 
LANHAM, MD – November 2013 – AREMA's 2013 Dr. William W. Hay Award for Excellence was awarded to the Utah Transit Authority for their FrontRunner South Commuter Rail Line. The Dr. William W. Hay Award for Excellence was established by the The American Railway Engineering and Maintenance-of-Way Association (AREMA) Board of Directors to recognize outstanding achievements in railway engineering. The purpose of the award is to honor innovative railway engineering procedures, projects and products and the individual(s) who have created and successfully applied them to the railroad industry.
Just under one year ago in December 2012, the Utah Transit Authority (UTA) achieved a historic milestone and opened its 45-mile FrontRunner South commuter rail extension three years ahead of schedule and 10 percent under budget. As a result they nearly doubled the amount of heavy rail commuter service built alongside the Union Pacific Railroad operations.
During the project the UTA discovered that the longitudinal joints of their precast box beam girder bridges were leaking. They had attempted to use typical joint systems, but they had failed because of the vertical deflections present on the bridges during normal use.  They required a waterproofing solution that would seal the joint, fit into the 1/4" clearance between the girders, and accommodate the free-floating tabbed protection plates present on the bridges. To complicate matters, the joints were slightly wider than 1/4".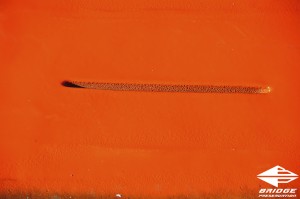 The UTA approached Bridge Preservation LLC., the leading innovator and manufacturer of cold spray applied waterproofing in North America to solve the leak problems. Bridge Preservation designed a unique "T-Cup" bridge expansion joint system, which was narrow enough to fit into the small clearance area, but could also accept the centering tabs.
After surface preparation and primer application, the joints were positioned and installed using Bridge Preservation™ Joint Adhesive. Bridge Deck Membrane waterproofing was then applied to the bridge deck. The tabbed protection plates were then placed in position and a bond breaker was applied over them. Another layer of Bridge Deck Membrane was applied, providing a "belt and suspenders" waterproofing solution at the joints.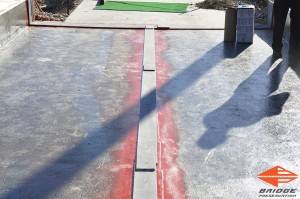 Cascade Industries Northwest, an Approved Bridge Preservation Applicator, installed approximately 45,000 Square Feet of Bridge Preservation™ BDM spray applied waterproofing membrane on 14 bridges.
The FrontRunner South line was one of five projects included in UTA's largest new starts capital development program ever conceived. The FrontRunner Project called for 70 additional miles of passenger rail to be built 15 years ahead of its long range planning schedule.
About Bridge Preservation LLC.
Bridge Preservation LLC. manufactures high performance spray applied waterproofing membrane systems designed to permanently protect rail, highway and tunnel structures. These rapid setting high build elastomeric systems are impervious to deicing chemicals, water, ballast, stray current and other factors that contribute to accelerated deterioration and wear of elevated structures. Bridge Preservation spray applied waterproofing products are manufactured and certified under ISO 9001: 2008.
# # #
Contact:
Jonathan Haydu
Bridge Preservation LLC.
(913) 912-3305
jonathan@bridgepreservation.com