With autumn in full swing and winter fast approaching, the Bridge Preservation™ Traffic Coating System is the ideal choice for late-season cold weather traffic coating projects.  It offers superior physical properties, providing true waterproofing protection and enhanced long-term durability.  It is resistant to damage from many common chemicals, including gasoline, diesel, anti-freeze, and deicing salts, and can maintain waterproofing integrity over cracking in concrete*.  All components of this system, shown in the diagram below, can cure in temperatures as low as 32°F.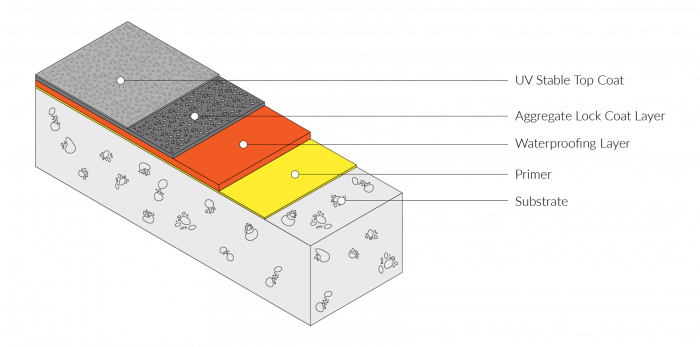 Learn more about Traffic Coating System
All components of the Bridge Preservation™ Traffic Coating System can be installed in temperatures below 40°F and will cure rapidly.  In most cases, the system can be returned to service the same day it's installed, regardless of temperature and relative humidity.
The photo to the right shows Traffic Coating System installed at the Portland International Airport in Oregon.  The roadway of the arrivals termal is subjected to approximately 18,000 vehicles per day.  At the time of this photo (May 2019), the system had been in service for four and half years and exposed to traffic from more than 30 million vehicles.
Traffic Coating System is not a PMMA and has little to no odor, making it ideal for use in population-dense urban areas.
The Bridge Preservation™ Traffic Coating System offers protection against water infiltration and other elements that can accelerate corrosion of structural elements.  It maintains flexibility at temperatures below freezing, and has passed the ASTM C1305 Standard Test Method for Crack Bridging Ability of Liquid-Applied Waterproofing Membranes after 40 cycles at -26°F*.
In the video to the left, the waterproofing layer was applied to two (2) 1″ thick concrete blocks, then stretched to failure.
Learn more about Traffic Coating System