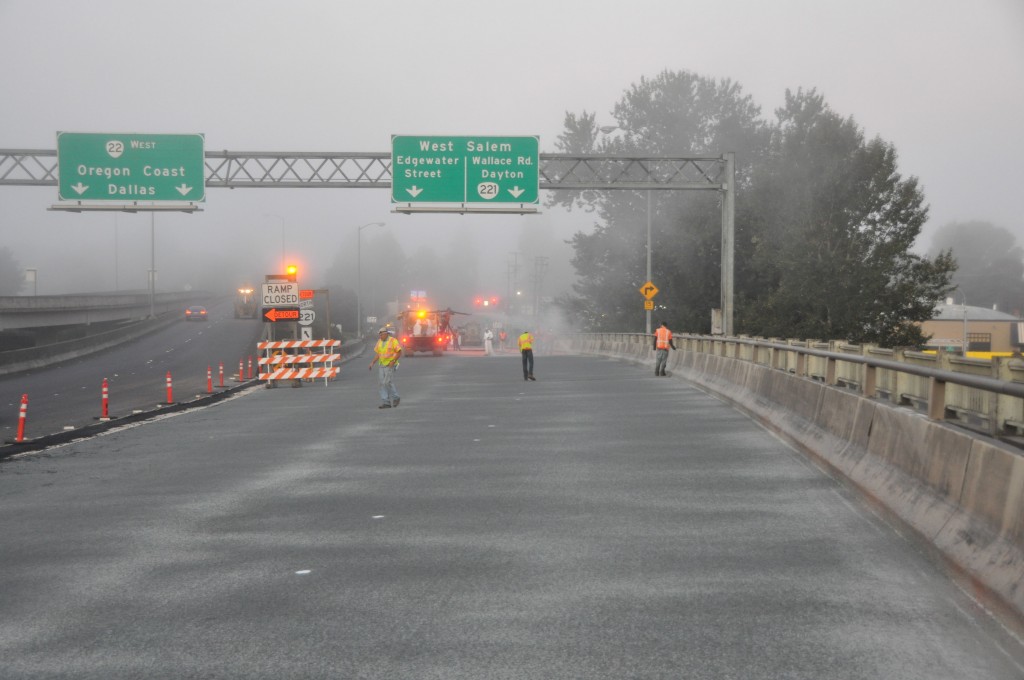 The Oregon DOT utilizes a fast curing, high performance, high friction spray applied waterproofing membrane on the OR22 Marion Street Bridge over the Willamette River.  
SALEM, OREGON – The Marion Street Bridge is a steel plate girder bridge with Gothic arched piers.  When opened in 1953 it was the largest plate girder bridge west of the Mississippi River, spanning a total length of 2,393 feet.  Between July 26 and September 27, 2011 the Roger Langeliers Construction Company installed 145,800 square feet of Bridge Preservation™ Bridge Deck Membrane (BDM) and BD Top Coat high friction spray applied waterproofing on the OR22 Willamette River (Marion Street) Bridge No. 07253B, built in 1953 in Salem, Oregon.
High Performance Waterproofing Products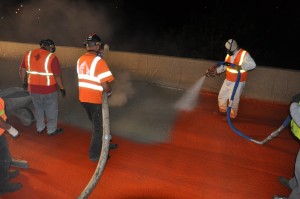 Bridge Preservation™ spray applied waterproofing systems are specially formulated, cold liquid spray applied elastomers designed for the high performance demands of highway bridge applications.  Both the primer and waterproofing membrane systems cure rapidly, even at near freezing temperatures, offering the fastest turnaround time of any spray applied waterproofing system on the market.  Bridge Preservation™ Top Coat is a high friction spray applied waterproofing membrane engineered specifically to tenaciously hold aggregate, safely allowing vehicular traffic for temporary, but extended periods of time (typically up to two weeks).
Marion Street Bridge Waterproofing Installation
Beginning August 1st, Roger Langeliers Construction Company (RLC) performed night work removing the existing asphalt wear course, cleaning the bridge deck, and installing the new Bridge Preservation™ waterproofing system.  When scheduling permitted, RLC was able to install as much as 20,000 square feet in a single shift, including all surface preparation.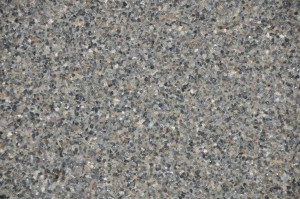 The Oregon State Fair took place between August 26th and September 5th, 2011, which delayed the bridge rehabilitation and paused the waterproofing installation.  During this 10 day period, a large area of the Bridge Preservation™ aggregated Top Coat was left open to vehicular traffic.  Even after 10 days of continuous traffic, the aggregated top coat performed well, showing no signs of aggregate loss or deterioration and providing a safe, non-skid surface for vehicles to travel on.
In addition to providing a temporary safe, non-skid coating, the aggregated Top Coat provided additional shear bond strength at the interface between the waterproofing membrane and the asphalt wear course, a typical failure point with many inferior waterproofing systems.
To read the complete project report, please click here: Willamette River Bridge.
About Bridge Preservation LLC.
Bridge Preservation™ products are manufactured and certified under ISO 9001: 2008.  This certification indicates Bridge Preservation's commitment to consistently providing quality products in the marketplace.  Bridge Preservation utilizes a systematic monitoring and evaluating process of raw materials to ensure that each batch of product meets the required guidelines established.  In addition to this monitoring process, Bridge Preservation subjects every batch of material manufactured to Infrared (IR) spectroscopy scans to ensure consistent manufacturing from batch to batch.  Quality assurance continues in the field with experienced field support from Bridge Preservation.  As part of a complete on-site inspection, sprayed and cured samples of material are collected from every job site and returned to Bridge Preservation's laboratory for further conformal testing.  Bridge Preservation ensures the highest quality products, beginning with raw material formulation and ending with the final installed product.  All critical aspects of the project are reviewed, inspected and recorded to insure that each application meets the standards established by Bridge Preservation LLC. and the owner.
For more information about this story or Bridge Preservation™ products, please contact us at www.bridgepreservation.com, or (913) 912-3305.
# # #